*** NEW ZEALAND SKINCARE RANGE - 100% NATURAL

"True Beauty is All Natural" is the philosophy of Oxygen Skincare.

All Oxygen products contain only naturally-derived ingredients found in plants and the highest quality essential oils.

The highly beneficial hero ingredient organic hop extract, produced on our very own farm in Nelson, New Zealand - New Hoplands.

BioGro Organic Certification. We use 100% Organic Hops
in all our products and more.

The extract of the organic hop is rich in several compounds and shown to inhibit five of the major acne causing bacteria.
✔ Oil control
✔ Contain anti inflammatory tannins such as acne
✔ Contain natural plant oestrogens that promote hormonal balance
✔ Skin toning and fading dark spots
✔ Collagen and elastin production
✔ Keeps skin soft and supple and delays aging

- SCIENTIFICALLY PROVEN - PROBLEM SKIN SOLUTION
Oxygen Problem Skin range is formulated to soothe, calm, and repair problematic skin issues at all ages.

With strong anti-bacterial and anti-inflammatory properties, the products are particularly beneficial in reducing redness, assisting in the healing of acne, irritation, scarring and blemishes.

- PROUDLY NEW ZEALAND MADE
The FernMark Licence Programme is the Government's official 'country of origin' accreditation programme, designed to protect and promote New Zealand products to the world.

We're proudly to announce that we've recently accredited with the FernMark' (the Government's trademarked Silver Fern) which should give you huge amounts of confidence in what you're buying.

The New Zealand government awarded "The Knight of the Order of the Hop" to the founder of the brand, Colin Oldham, in recognition of its contribution to the hop planting industry.
- OXYGEN TEEN PRODUCTS
The first of its kind in New Zealand. 100% natural and specifically designed with the younger skin in mind.
It uses freshly scented, botanical ingredients packed with vitamins and minerals to protect and nourish young skin naturally.
Simply, safely & effectively
- WE ARE BIOGRO CERTIFIED
BioGro's certification process and organic standards is what empowers consumers to trust organic brands.
- WE ARE PROUDLY
❤
Gluten free
❤
Dairy free
❤
Natural
❤
Recyclable packaging
Without
✘
Filler ingredients
✘
Genetically modified/engineered ingredients
✘
 Parabens
✘
Artificial colours
✘
Sodium lauryl sulfate, mineral oil
✘
Petro chemicals
✘
Animal testing
✘
Chemical sun protection
Hide
Learn More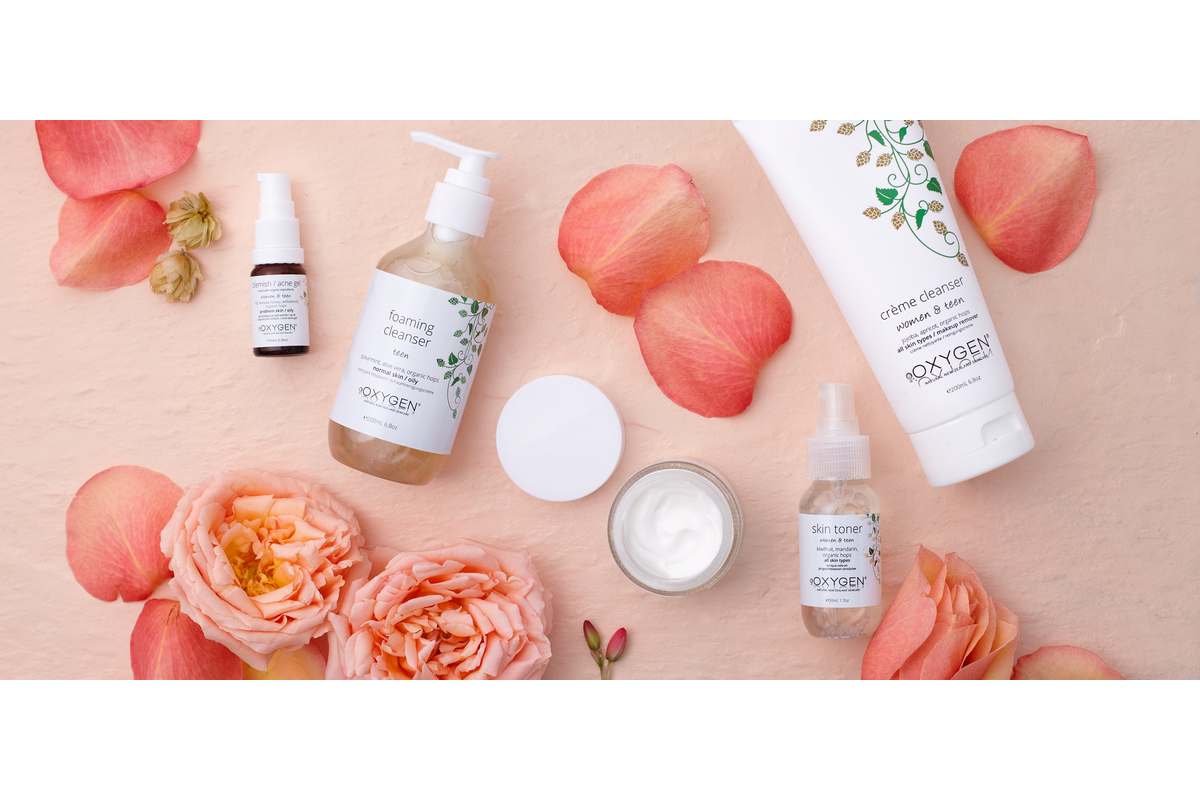 Home
Shop
Filter by